Can you share some planning secrets' came the call. After thirty years of creating fabulous festive events, I certainly have one or two secrets up my sleeve! So when the opportunity came to head over to south Yorkshire – historic Whirlowbrook Hall to be precise – and talk about what makes a Christmas event so special, I jumped at the chance. 'Unwrapping Christmas Party Secrets' will be my opportunity to discuss the key to planning a successful Christmas event….and some of those TLC tips that will make the event extra-special!
Tips for planning a successful event. The secret to keeping ideas fresh. What trends we can expect to see in 2019 and beyond.
"And just why did HRH The Duke of Cambridge sing"?
To find out more, you will need to join me at lovely Whirlowbrook Hall on 26th September. Better still, this is a free event in association with Sheffield Chamber of Commerce and Vine Hotels so I expect places will book up quickly. Book now!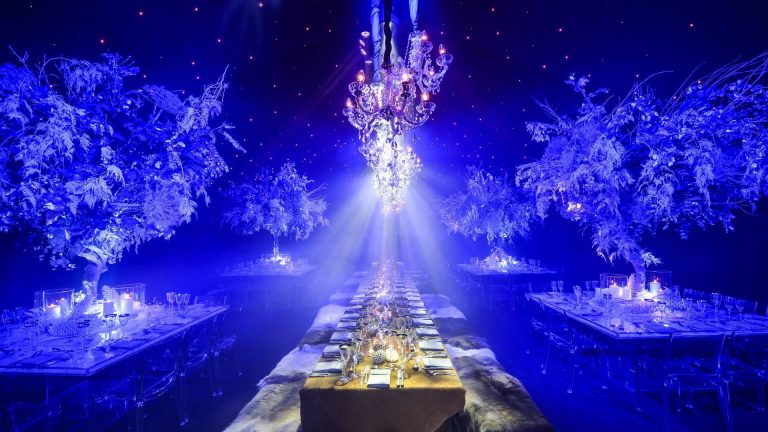 If you cant wait, here's a flavour of what's to come in: Unwrapping Christmas Party Secrets:
Venue with a difference
Railway arches, disused warehouses and amazing urban spaces are the choice of the party elite. The key to styling an architecturally rich venue – let the building shine. Lighting is key. A wash of coloured light over stone walls. Candles and spotlights highlighting niches. Statues, artwork and building features all form part of the lighting design. High ceilings? Lovely, but they can drain atmosphere from an event, so using lighting at different levels to create a more intimate feel. Combine tea-lights with oversized hanging floral chandeliers. Chunky scented candles on top of exquisitely dressed pedestals are complimented by a digital lighting extravaganza over your dance-floor. Lighting adds drama, energy and warmth to your venue – it is an essential ingredient in any event.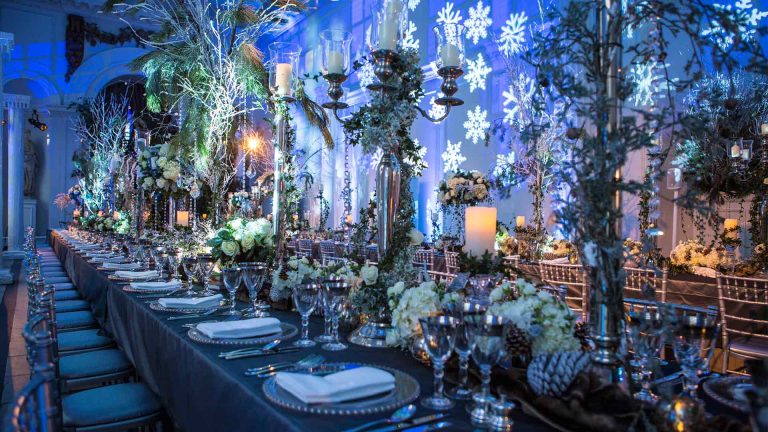 Casual Catering
Food and drink is always an important element to the party. If the company is paying, we always suggest they offer a free bar for wines, beers and soft drinks. Many employees are reluctant to pay for their own. As for the food – menus should be about more simple recipes presented in a cutting-edge way. Tradition always influences the choice of festive dishes, but creative presentation sets it apart. Hearty soups served in teapots and tea cups, duo dishes of festive pies with individual jugs of hot gravy, and a lazy Susan on each table – laden with chocolate and fruit puddings to tempt the strongest willpower!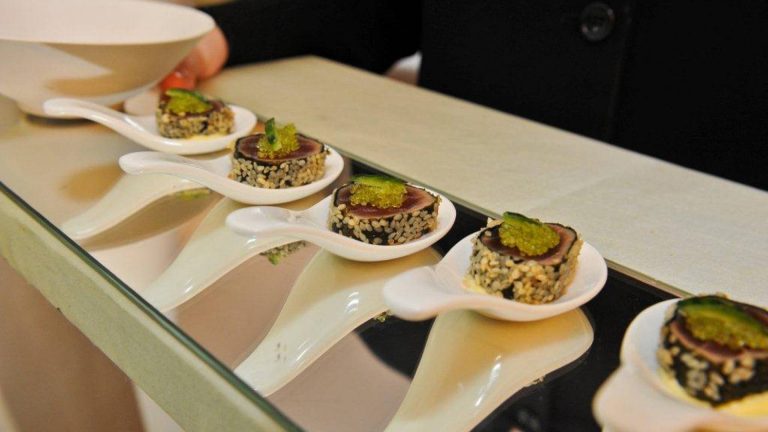 For a cocktail party – international foods can be delivered in a stylish and innovative way and late night buffets can reflect the ethnic magic of the occasion. From food stalls to bespoke buffets tables, lavished with an eclectic mix of fabrics, props and theatrical design! Think kebabs to pizza vans, celebrity chefs cooking live in a reception to Asian inspired nuts & noodles, sushi & sea bass, to a selection of burgers that offer bite sized tastes of mouth-watering fun. Taste the difference! Presentation is of course key and from the canape to the cutlery – guests will eat with their eyes!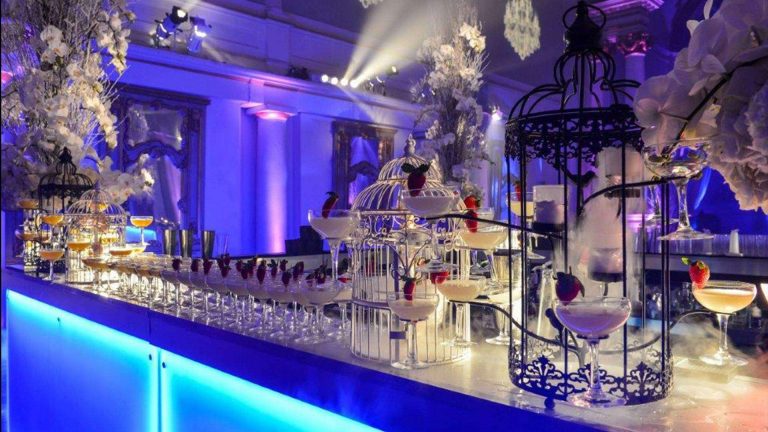 Bubbles are Back
Prosecco is a firm favourite and sometimes preferable to Champagne as the perfect base with which to blend fresh pureed strawberries or a selection of fruit syrups – a great alternative if you are looking to keep costs on track. But make drinks entertaining! Popcorn cartons filled with a secret cocktail recipe and topped with fresh popcorn is almost as exciting as the plastic zip-up bags – complete with a plastic goldfish inside and a straw – filled with vodka, lime and soda – all on offer at the rotating fairground carousel bar. A watermelon and lychee martini delivered in ornate bird cages. Vintage inspired ingredients poured from a tea pot. They all contribute to the most exciting cocktail experience. Not forgetting those behind the wheel, these can all be converted to a delectable non-alcoholic choice that is just as exciting.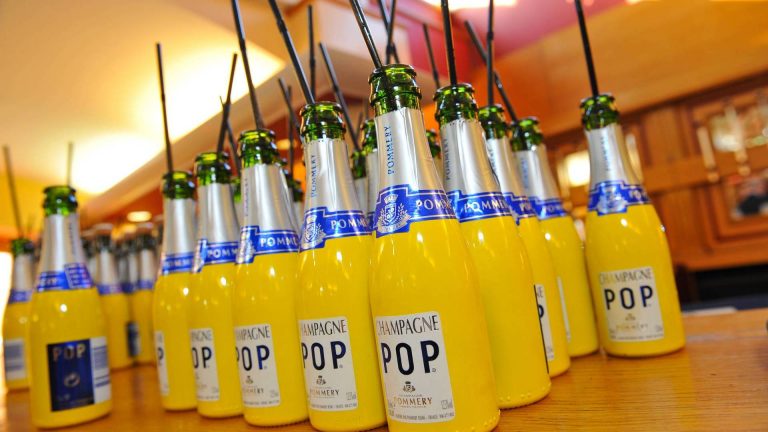 Dramatic Moments
Impact – from the moment guests arrive to the minute they leave, cameos of drama should be reflected in the floral décor, entertainment and exclusive little details – all of which contribute to the drama of the occasion. A table plan created from a Christmas tree and baubles. Place cards of ices chocolate bars or gingerbread reindeer. Table magicians. Singing waiters. Faux walls crashing to the floor to reveal the party dance floor. Individual details that combine to create a dramatic, theatrical production.
As you depart Liz says "Why not think about leaving guests with a last memory of the party. Fish and Chip Van in the car park, a firework display in the car park, or brown paper party bags with carbs, calories and branded water bottles…or a miniature brandy for your night-cap!"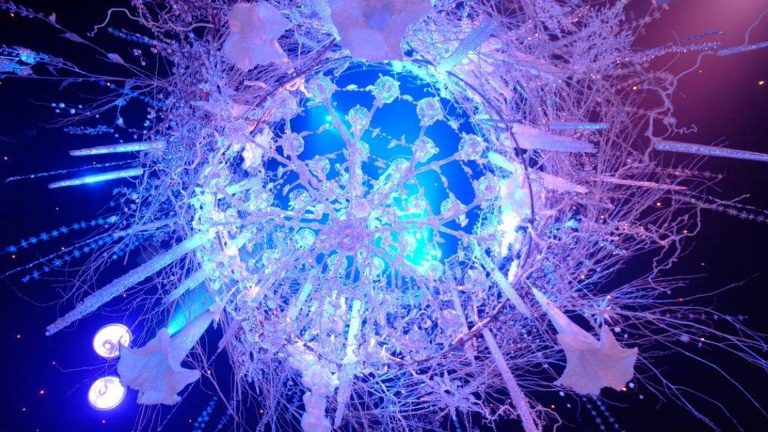 See you at Whirlowbrook Hall for 'Unwrapping Christmas Party Secrets'!