>>> Click here to read the full article on The Successful Founder
On her Events That Made Me podcast, award winning event planner and hospitality consultant, Liz Taylor, is no stranger to interviewing some of the UK's best-known faces from the worlds of entertainment, sport and business. To kick off the third season she managed to scoop a no-holds-barred interview with ex-footballer turned entrepreneur and property mogul, Gary Neville, who shared his advice for those wishing to emulate his success.
Here Liz, introduces the highlights from the interview in which Neville spoke of how his formative years at Manchester United prepared him for the business world, as well why the next three years are crucial to his business.
"Gary Neville is a person that I have always admired, not just for his football prowess but because of the way he has transformed himself into a successful entrepreneur and founder of a portfolio of businesses." shared Liz
"I have known Gary for many years, and even had the pleasure of organising his wedding, yet the strict ideals he imposes on himself as a businessman that became apparent during our discussion surprised even me."
The Drive for Success
In the podcast, which can be heard in full here, Gary talked openly about his drive success and need to feel a sense of achievement as an entrepreneur and business founder, saying: "The business side, I've got to deliver on it. If I don't deliver on these businesses in the next three or four years, the last 15 years won't count for anything. So, I feel like I'm in the … finishing straight, if you like, of a race. Because I think 50 is the point whereby, I need to then think about what I'm going to do for that next 15 years."
Memorable Mentors
Having started her own business with just £200 in the bank, Liz herself is no stranger to hard work, understands Gary's drive for results and similar to the businessman, believes it was mentorship in her early career that set her up for life at the helm of a multimillion-pound business.  During the interview Gary explained how he evolved from a shy boy, into a confident businessman:
"People say that … you can't build character. You can't learn character. You can't teach determination. You absolutely can, and you just got to basically see it to be it.
"And I just saw determination in Roy Keane, Paul Ince, Eric Harrison…Sir Alex Ferguson, I saw people around me who were animals, absolute animals. They worked on a football pitch in the gym. Everything was like 110%. They would literally die for every single pass, every tackle, every header.
"And when you see that. You've got the level that you need to step to and go to. And that's where I … was influenced by all of those people around me. And I became that person that I am today – through those influences from 16 to 20. We all did. All of us. All of us, young lads."
Dealing with Failure
One question Liz always asks guests during her interviews is 'what is the event that made' them.  Very often, it is an opportunity or an experience in somebody's life that shapes their future for the better. In Gary's case, it was failure on the football field that gave him the skills he needed to bounce back from life and business setbacks. Something all entrepreneurs need to master.
Gary recounted: "When I was 24, I had a really bad experience in football and for United fans who were listening or football fans, who may remember, I gave two nightmare goals away with pass backs against Vasco da Gama.
"We lost the tournament; we lost the competition, and I went under. I went under for eight months, complete loss of confidence, doubted myself, absolute shambles and needs to go and see a psychologist at the time to come out of it. But since that point …my mistake management or my recovery from major events that go against me, I think really is good. Because I put a lot of work in around that time."
That effort in developing resilience and strategies to cope with failure also paid off when the businessman left his job as manager of Valencia football club. An unsuccessful time, and yet Gary was: "back on Sky within three months and no one would have known that I'd been a failed manager …. because I genuinely am able to compartmentalise things …. and move on straight away."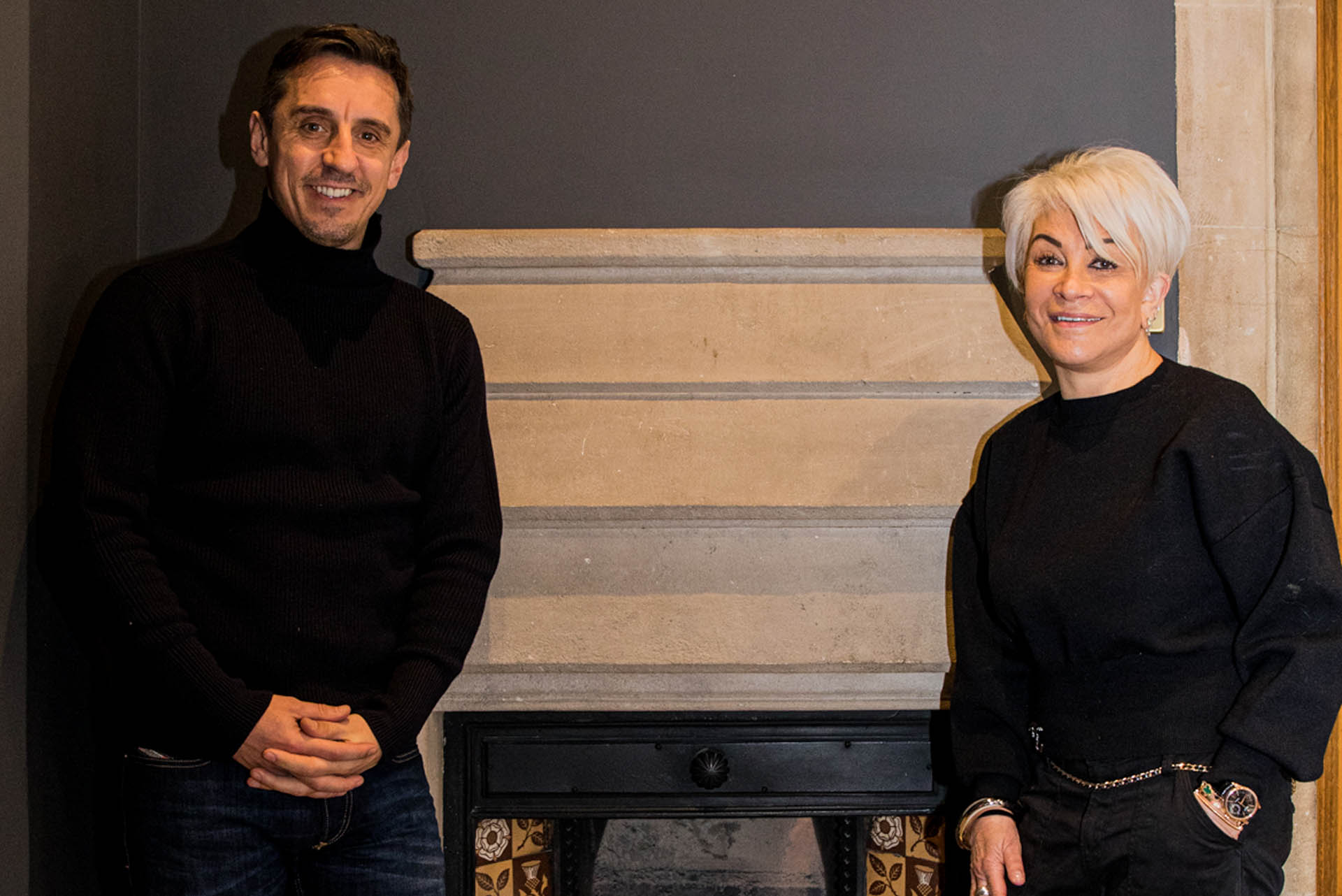 Ditching the Desk
The final part of the interview focused on Gary's outlook on providing the right working environment for his team. Post coronavirus, with many companies and individuals switching on to the benefits of flexible working, it's something many more businesses are now looking at.  Will desk working, offices as we know them, be the same when we return to work fully? That's yet to be seen, but a more informal setting may well feature. And Gary would approve.
"I don't want anybody to ever come to work with me and be stuck at a desk. It's an offence. It's akin to bullying for me to stick people at a desk and say, you sit there every day. It is just wrong."
"You have to give people an environment where they're relaxed. We had that at United. People used to move around the changing room. You could go in the lounge.… I want people to feel free when they are working… and that enjoyment that makes them look forward to coming in every single day.
"So, basically, our office is more of a coffee shop or a bar than it is an office…it's got to feel like you're at home and you're relaxed, and you feel comfortable."
Final thoughts
A property developer, entrepreneur and hospitality business leader, Gary Neville is one of the few sports personalities that have made that shift from success on the football field, to achieving in the boardroom. Gary ended his interview by sharing advice was for anyone starting out on a venture in life, "Get up every single day work as hard as you possibly can. And don't give up." Sage words for any entrepreneur.