THE MISSION
An exciting, innovative young chef, Ed Shaerf had ambitions to emerge from the UK's lockdown in 2021 with a renewed focus, energy, creativity, and market presence.  Having known Liz Taylor through both working in the luxury event sector, he recognised that her business acumen, experience, and eye for creative catering development and detail would be an immense asset to his own business.  And so, he picked up the phone….
THE BUSINESS
Feast by Ed Shaerf is an external and private catering business with a firm focus on bringing Kosher food into fine dining.  Using the best quality ingredients, chef-owner Ed draws upon his working impressive track record. He has worked with some of the best chefs in the UK including Gordon Ramsay and Simon Rogan, to create exciting and inspiring dishes – where presentation is king.
Ed owned his own restaurant for three years, working alongside culinary consultant David Moore of the Michelin star awarded Pied-à-Terre. He also enjoyed roles at prestigious, award-winning restaurants such as The Ivy in London, The Fat Duck and Claridges. Before moving to the north-west and taking up the position as head chef for a leading Kosher caterer.
With a busy order book and more opportunity ahead, Ed sought the support of LTC in 2021 to restructure his company and provide a platform to sustainably grow and expand.  He wanted to showcase his style of food outside of the exclusive Kosher sector. Bringing it to the attention of new audiences and food aficionados.  Cuisine that excites the taste-buds and delights the eyes – which happens to have been prepared and cooked to exacting Kosher standards.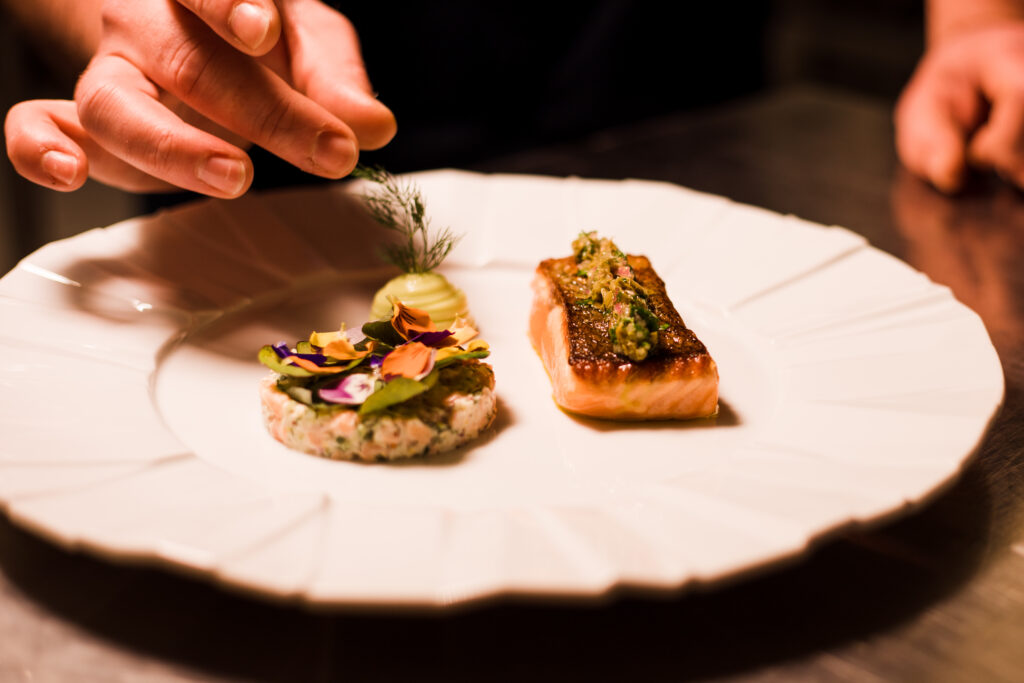 THE PLAN
Structure and a firm base for growth were key. Liz invested her 30 years of event and hospitality business knowledge to put this company on a path for long term development.  A restructure of the team based in the northwest. The recruitment of northwest and southeast sales co-ordinators to manage bookings. And a redesign of the premises to provide a show kitchen, tasting room and area for product development were initial quick implementations.  Alongside, Liz has worked with Ed to ready fresh and exciting marketing. With a new website, social media and PR campaign underway.
Keen to highlight the real USP of this business, Liz and Ed have developed menus that showcase food that is both incredible in flavour and dramatic in presentation; that also happens to be Kosher.  Raising the bar in this sector which historically, has not been at the forefront of the contemporary culinary scene.  Additionally, rigorous testing of the dishes ensure that restaurant quality food and presentation can be delivered in unique mobile settings – a pitfall that many chefs' fall foul of!
THE SYNERGY
Ed's passion for food, creativity and dining experience is something that drew Liz to this project.  It sits perfectly alongside her own philosophy. One of defining new, bolder standards in event management.  Dishes have been curated to embrace innovative, fun and enticing presentation. Placing Ed's food firmly into the spotlight when it comes to creative catering development.
For more details about Feast by Ed Shaerf, visit: Feast by Ed Shaerf (kosherfeast.com)
MORE
LTC's expertise extends beyond hospitality, take a look at how we are working with Broadway Insurance Brokers.
Thanks for sharing.