Liz has Christmas quite literally all wrapped-up at Victors restaurants and Neighbourhood, Liverpool
Liz says: "When I started my luxury hospitality consultancy it was because I knew I had a lot to offer venues that were looking to elevate their brands and appeal to new luxury markets.

"My years of event design and set dressing, along with the trusted contacts I've developed, have been put to good use over the festive period when I was asked to create innovative festive décor for hospitality venues in Manchester, Oxford, Cheshire, and Liverpool."
Here's how it was done:
THE BRIEF
"Create a unique stylish and contemporary interpretation to reflect the brand."
THE SETTINGS
Victors restaurant in Alderley Edge, Oxford and Hale – best known for its signature ceiling of hanging wisteria. Victors has built a name for itself as a casual, vibrant, and upscale restaurant for regular dining and celebrations.
Just over the way, Neighbourhood, Liverpool, was another setting to receive the 'Liz Taylor' treatment.  Known for its New York style dining, cool décor, and vibrant party atmosphere. All the venues are owned by the East Coast Concepts Limited, a client of mine for many years.
THE CONCEPT
The usual process when presenting a concept to clients, is that I would outline a number of options with the client choosing their favourite to take forward, perhaps asking for refinements or to merge different ideas along the way. I always view consultations as a collaborative session, with ideas that morph and change as client and consultant come together. On this occasion, however, I never got past concept number one. It was love at first sight.
If ever there's a time to go all out it's Christmas. One of the many lessons I've learned over the years is that more, is most definitely more, at Christmas time.
I pitched a gold, silver, bronze scheme which echoed the traditional baubles and bows of the season, but with a modern interpretation. The client loved it, and the only feedback was 'go bigger' so that's just what we did…
A CHRISTMAS LIKE NEVER BEFORE…
I engaged the help of long-term creative floral and décor partners Springbank, and we set to work on transforming the venues into the most fabulous festive scenes.
Springbank is renowned for its dramatically decadent event dressing, so alongside my fabulous TLC event planners, I knew they had the right team for the job.
Hundreds of baubles were arranged at the venues. We deliberately avoided trees – too predictable! Instead, we incorporated huge columns of baubles to create a magnificent welcome at each venue. Sumptuous, metallic, and contemporary.
The colour scheme was kept classic, sticking to mixed metallic colourways of bronze, gold, and silver. Varying sizes and finishes on the baubles added to the visual interest.
To take it even further at Victors in Hale we wrapped the entire building in a gold mirror bow and a sash of shimmering baubles and twinkling fairy lights. Christmas literally wrapped up.
The result is a show stopping scene that has the public stopping in its tracks to admire, photograph and pose for selfies.
Not only did we meet the client's brief but by understanding the brands we were working for and the fact that they attract the crowd that's not just looking for a venue, but for a selfie backdrop, we ensured that the festive décor has been snapped, saved, and shared hundreds of times on social media.
Decorations are not just for Christmas they're for building audiences and brand awareness too.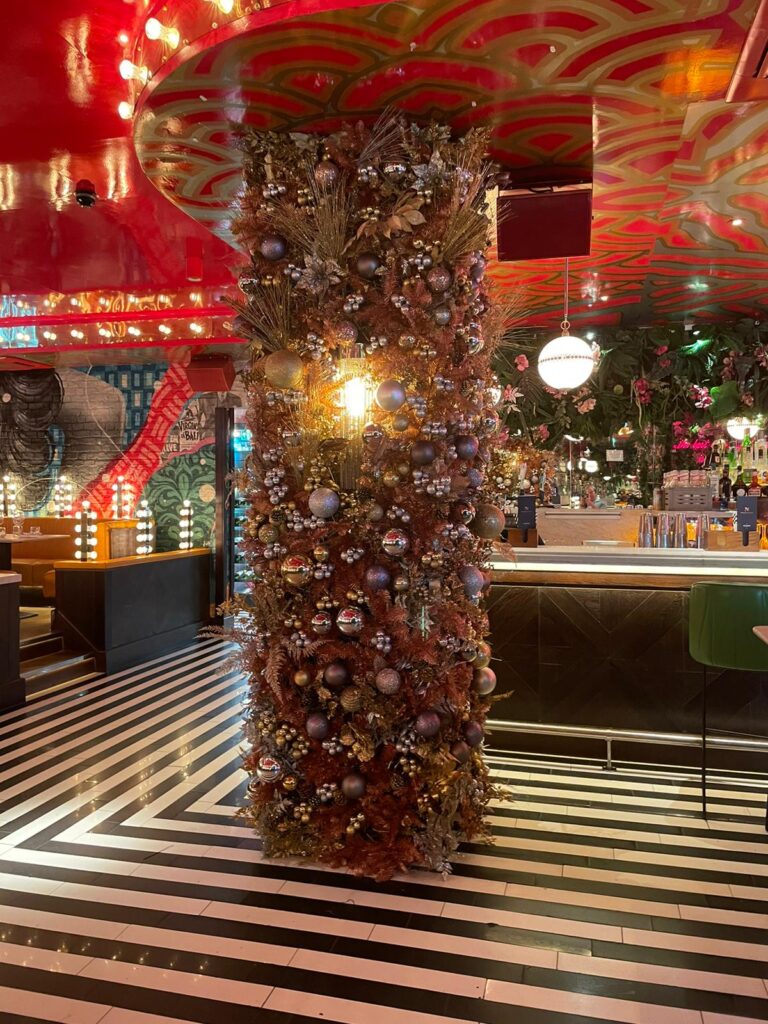 THE CLIENT'S VERDICT
"We were delighted with what Liz was able to achieve in such as short space of time. The result is nothing short of spectacular. But that's just what we've come to expect."
For more photographs and to hear more about Liz Taylor's luxury hospitality consultancy could help your business, follow us on Twitter @ConsultancyLiz, Facebook/Instagram @liztaylorconsultancy, or visit https://www.liz-taylor-consulting.co.uk/
Find the restaurants featured in 'Christmas – It's a Wrap'! at:
Victors | Restaurant & Bar | Oxford, Hale & Alderley Edge
Neighbourhood Restaurant & Bar | Leeds and Liverpool
Thanks for sharing our 'Christmas – It's a Wrap!' story.