Liz weighs into the hottest debate in hospitality! Here's all you need to know about cakeage. As well as some alternatives ideas, if you and your customers find the charge difficult to stomach.
The hospitality sector was thrust into the headlines recently as a restaurant attempted to charge a diner £10 per head for 'cakeage', when he asked if he could bring along his own birthday cake.
Ivor Baddiel, who also happens to be the brother of famous comedian, David Baddiel, was stunned by the potential fee. He took to social media platform Twitter to air his grievance. A fierce debate ensued with many Twitter users outraged by the fee considering the current cost of living crisis.
But what are cakeage fees? Are they something more restaurants should be taking a slice of, or is the whole argument 'much ado about muffin'?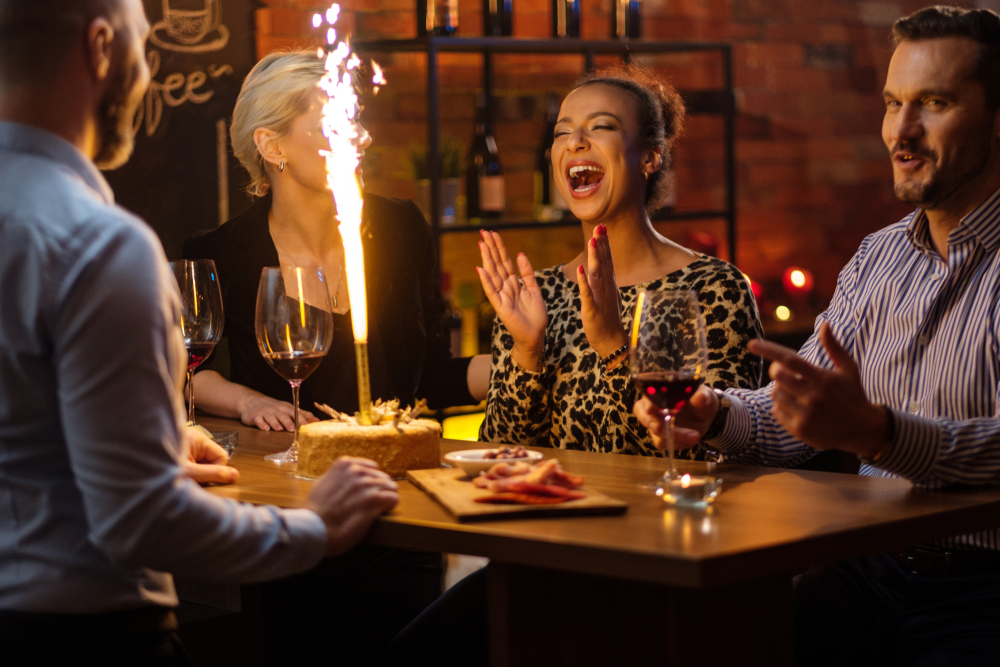 WHAT IS CAKEAGE?
So, the question is ' Cakeage – What is it and should your restaurant be using it?'
Cakeage gets its name from its more established and widely accepted older sibling, corkage.
Most guests at hotels, wedding venues and restaurants are acquainted with corkage.  The levy attached to 'bringing your own alcohol.' Corkage is an industry standard and is used to offset lost revenue on alcohol sales, as well as covering staffing costs for serving it.
Cakeage follows the same rules. It is a charge for lack of income earned from desserts, as well as the time it takes staff to portion, serve the cake, and wash the dishes afterwards.
The charge can range anywhere between £3.50 per head to the 'extortionate' £10 a head outlined in this week's public cake debate. In recent years it has become more commonplace in London, and now it appears the concept is spreading beyond the Capital.
THE GREAT BRITISH CAKE OFF – AN ARGUMENT FOR AND AGAINST CAKEAGE CHARGES
You need only examine reports of the 'cakeage scandal' this week to realise that for many people, cakeage charges are a step too far.
The Twitter row that followed Mr Baddiel's initial disbelief, uncovered the consensus.  Although there were arguments on both sides.
The tweet received 1,700 retweets and over 26,800 likes. Some tweeters, were outraged:
"Personally, I'd have cancelled the entire booking and found a restaurant that wanted your business. They truly don't care if you come back again or not…They don't seem interested in making my meal enjoyable at all. Just a transaction."
Others took issue with the level of charge: "A cakeage I suppose I can understand. £10 / head is ripping the p*** though."
This notion was wittily translated into 'real life terms as reported by the Metro, "A party of ten splitting a single Colin the Caterpillar – arguably the golden standard of birthday meals out – would end up paying a whopping £107.
And a simple Google search for 'cakeage' reveals not only the recent furore, but a string of bad reviews for establishments that have introduced the tariff.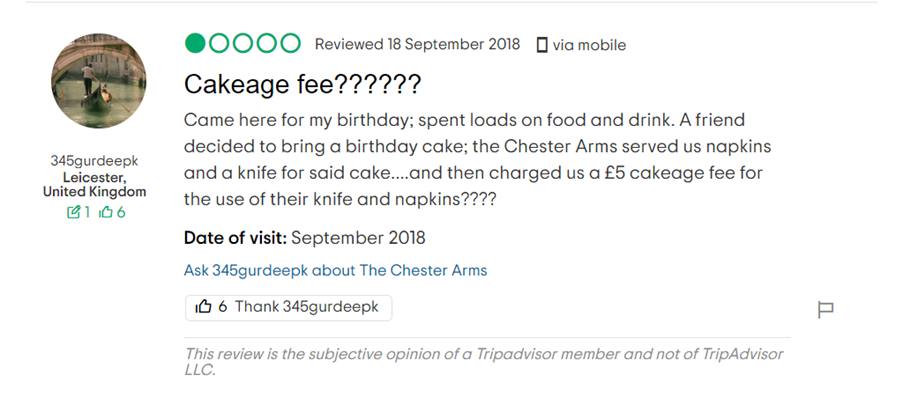 Yet for struggling restaurants it's not hard to understand why charges might need to be applied. Many businesses are still recovering from the pandemic, having lost over a year's worth of trade.  Or having been shackled by restrictions and still dealing with lack of consumer confidence around Covid-19.
If diners bring their own cake, are they still likely to order dessert? Probably not. Although those with larger appetites may opt for both, the majority will substitute one for the other.
And of course, when eating their own dessert, the party also spends more time at the table which could be turned around for another booking. Table blocking by a party generating no revenue is not good news for the restauranteur! As they tuck into their shop bought cake they are quite literally eating into your profits.
LET THEM EAT CAKE…
Just why diners are finding cakeage so hard to swallow, is a question of examining the context.
At a time of price rises across the board, it's another blow to the consumer. With tax hikes, energy costs and food price increases, people are struggling to pay day-to-day bills. Never mind affording the luxury of eating out.
Some would argue that it is out of touch for restaurants to add further charges to these already squeezed pockets. Especially at a time as precarious as this, should owners be more grateful of the business. Or should they be prioritising profitability? The argument has many tiers…
Perhaps the acceptance of corkage from most patrons comes from the fact that even if buying their own alcohol and paying a corkage fee to drink it, there are still savings to be made on the alcoholic elements of the day. Whereas, as outlined by the Colin the Caterpillar example, there are no savings to be made with cakeage.
Related Topic: Salt Bae – Marketing Masterclass or Flash in the Expensive Pan?
ALTERNATIVES TO CAKEAGE TO THROW INTO THE MIX…
Rather than charge cakeage you could suggest that you are happy to serve the cake, although you do ask that diners order coffees, teas, or a celebratory glass of fizz to extend the use of the table. This seems easier to swallow than a charge that they perceive to be 'for nothing.'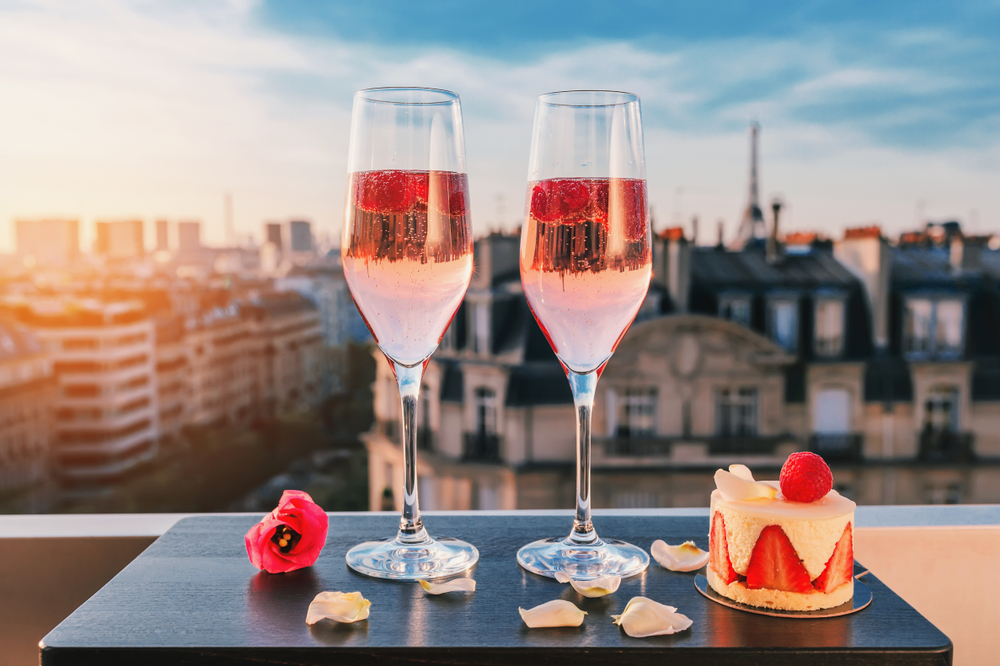 Let the customer know how long they have the table for. Timed table slots are also commonplace these days. Whilst you may still lose money on potential dessert orders, you may be able able to turn the table around quickly.  Thus not losing out on more covers.
You could introduce a 'birthday dessert' to the menu. Create a showpiece dessert or homemade cake that your venue becomes famous for. Be THE 'dessert destination' for celebrations. Nobody will bring their own cake along if that incredible dessert is the big driver behind their booking.
Set menus are another way round the lack of dessert purchase. Three courses for a fixed price that's both profitable for the restauranteur and good value for the customer. Whilst the customer may bring a cake along and skip the dessert, the cost of the missed course is built into the price and so the restaurant is paid anyway.
Then of course if you do decide to go with cakeage think about the level of cost in line with the rest of your menu. £10 seems like a lot, but that depends on the setting. If it is a fine dining restaurant perhaps it seems more justifiable as it may well be a similar cost to that of a dessert.
IN SUMMARY
Customer perception is important to bear in mind when deciding on whether to charge a cakeage fee. Yes, it may remunerate any lost revenue from dessert (although in experience diners do sometimes decide to opt for both), yet as it's not as widely recognised as corkage.  You are likely to see push back.
And as we all know; word of mouth and online reviews can be transformational or devastating for a business. So, upset your customer at your peril.
Cakeage may be entirely reasonable from an industry perspective.  But until it is widely recognised, if you are to appeal to the many, it may be worth swerving it for now and employing a different strategy to cover the costs.
Thanks for sharing our thoughts on 'Cakeage – What is it and should your restaurant be using it?'