The Northern hospitality sector is thriving, there's no doubt about that. A quick tot up of those just on my conscious radar and I count twenty-three new bars and restaurants opening in Greater Manchester in the coming weeks. Not just in the city centre but developing towns such as Stockport and Bury too. The Manchester hospitality scene (and let's assume moving forward I mean Greater Manchester when I say that) has overcome challenges to create growth, and variety. American pizzerias. Brazilian BBQs. Proper coffee joints. Underground speakeasies. And a lively Latin American bar and restaurant offering some of the best mezcal cocktails around, (that I have a vested interest in) to name a few. There are more to come, I'm sure.
It's true that Covid hit the North hard. With extra regional lockdowns and a winter of discontent. Then we were plagued with staff shortages and Brexit related supply issues. A double whammy of challenges to overcome on our road to recovery.
We've certainly channelled our Northern resilience. And the Manchester hospitality scene has overcome challenges aplenty to bounce back stronger than ever. I would also argue that these 'problems' have had a transformative effect on the industry.
Always one to look for a positive aspect. I believe that the pandemic changed the hospitality landscape of the UK, AND the way many businesses in this sector operate, for the better.  So here, with one eye on the future as we move towards 2023, I predict trends for the Northern hospitality scene. Plus, I'll share the developments I have observed; many of which I hope are here to stay.
EATING OUT
The boom in outdoor dining was spurred on by covid but embraced wholeheartedly by the British public. It's looking like it is here to stay and I for one can't get enough of it.
Rooftop bars offering breath-taking views over the city are one of my favourite places to take time out, sip some cocktails and watch the hustle and bustle taking place below. Manchester has plenty, as do the other northern cities.
Success stories like The Ivy, Great John Street Hotel and of course 20 Stories are inspiring more establishments to open their roof spaces. If you're the more grounded type then the Spinningfields area has comfy couches and Balearic-inspired terraces aplenty, from which to watch the world go by.
And in the suburbs too, outdoor dining really is taking off.  The Amalfi Coast inspired Italian dining garden at San Carlo, Hale being just one of the projects I've been involved in that demonstrate the shift. Dining al fresco has never been more desirable or more accessible.
STREET LIFE
The evolution in the Manchester hospitality scene is not just at the luxury end of the market. Street food stalls and outdoor dining destinations such as Hatch in Manchester and the 'under construction' street food village that's emerging from the ground up in the centre of Piccadilly Gardens, are encouraging independent traders to share spaces by rotating the food, drink, and shopping offering. Less overheads, more choice for diners. And the food is outstanding.
These spaces inspire a Bohemian atmosphere that simply can't be achieved inside bricks and mortar. It's a trend that's being emulated over the length and breadth of country. From Norwich's hidden and eclectic Junkyard Market to the converted shipping containers of Stack in Newcastle.
The growth of casual dining outlets is a trend we're seeing mirrored within event management too. Where it is a more affordable and dare, I say, impressive option. The street food concept looks like it is here to stay for the foreseeable.
SEASONAL PRODUCE
The rise in seasonal produce and the 'farm to fork' movement, particularly within the luxury dining sector has its roots in caring for the environment. However, it has been accelerated by Brexit-related supply chain issues.
More and more hospitality brands are turning to local suppliers and incorporating home-grown ingredients to their menus. Exotic ingredients from far-flung shores are falling out of favour. With foraging and a demonstratable journey and source of ingredients becoming much more important to both brands and consumers.
Again, this demonstrates how a threat can be turned into an opportunity to change working practices for the better, while remaining profitable.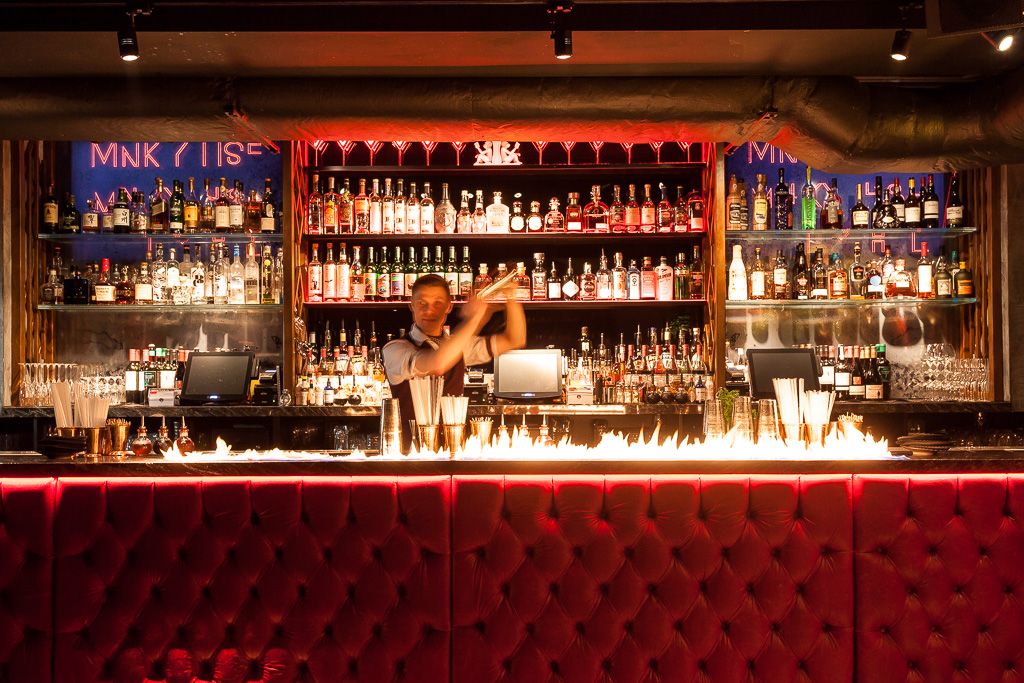 BETTER CONDITIONS FOR WORKERS      
Staff shortages rocked the hospitality industry but again this could be turned into an opportunity for venues that are really beginning to see the value of their workforce.
Restaurants, hotels, and bars, rather than paying low wages and experiencing high turnover of staff are thinking more about how they attract and retain employees, especially with more home working in other sectors. It's so important that staff feel valued and are rewarded accordingly for their hard work.
The situation is also leading to more creativity within the market. A venue for instance, might not have staff for 150 seated diners and so bosses are being forced to consider more how they manage the space and the staff they have at their disposal.
DINE AT HOME / LUXURY TAKE AWAYS
I never would have dreamed that luxury restaurants would offer a dine at home or take away option yet, mainly because of the pandemic, here we are.
Pre-covid, takeaway was often viewed as the 'down market' way to do business. Yet, forced to pivot to stay afloat several higher-end venues began to offer cocktail making kits, dine at home options. And yes, take away. I think many have been taken by surprise at the continued popularity of these options. The savvier venues have also branched out into new revenue streams. Recipe books and branded merchandise that allow more meaningful and ongoing engagement with the brand.
NO MEAT, NO PROBLEM
It's perhaps no surprise that Vegan food made my list of trends and observations within the Northern hospitality scene.  Vegan, gluten free and vegetarian diets have well and truly crossed over to the mainstream. It wouldn't have been so long ago that vegan diners would have had perhaps one or two venues to visit in the region. However now there is an abundance of high-quality vegan restaurants. In addition to more choice for vegan diners on the menus of those places that are not fully vegan.
The rise in veganism, once viewed almost as a nuisance to cater for has prompted a cultural shift that will surely benefit restauranteurs. High quality plant-based ingredients being in the most part, more affordable and easier to source. It has been described by some food industry insiders as an opportunity to lower price points while upping profit margins. Win, win. And those yet to embrace the vegan market need to review their policies or risk being left behind.
CHALLENGES AS WE HEAD INTO 2023
The energetic and vibrant Manchester hospitality scene has overcome challenges in the last couple of years, and he issues we face in the North are identical to those throughout the country. Cost of living, staff shortages, particularly within hospitality, rising energy costs and of course areas that do see huge deprivation in comparison to more affluent places within the city.
Another huge challenge for the Northern Hospitality scene will be whether the Government follows through with its commitment to the Levelling Up Agenda. This is something I've shared my thoughts on recently with the editor of Meeting & Incentive Travel Magazine
A key part of this, improved transport links through HS2 are imperative to developing the Northern hospitality scene. Yet now there is a question mark over how successful the final product will be. For me, HS2 in its original vision is not a nice to have. It's essential for the events industry to grow and thrive in this region – and across the north of England as a whole.
Whatever happens, I am certain that the Manchester hospitality and events scene is changing and for the better. Despite criticism on the elements of levelling up, I do believe it's a brilliant time to be a hospitality business based in our region. As I mentioned in the opening, there are new bars and restaurants opening all over the city. So much so, that it almost feels as though we are levelling ourselves up.
THANKS FOR SHARING MY VIEWS ON THE EVOLUTION OF THE MANCHESTER HOSPITALITY SCENE.