One of the few, and surprising upsides of the pandemic, has been the renaissance of outdoor dining in the UK. Albeit a forced shift, you will be hard pushed to find somebody who hasn't embraced the al fresco dining revolution happening not just here, but in major cities all across the world.
But does the UK still have an appetite for dining al fresco now that we have the choice to head indoors? Can we overcome the inevitable issues of weather, space, and legalities and adopt a more European approach (think Parisian street dining)? And where exactly should restaurants be investing if they want to maximise their revenue with outdoor dining? Here's my thoughts.
CHANGING SPACES
For those venues lucky enough to have an abundance of outdoor countryside space, yurt's, tipis, marquees, horse trailers and tarpaulin's have shielded us from the worst of the British weather. And importantly, have provided a practical and innovative space to enjoy everything from fine dining to cocktails and gourmet pizza.
Within the inner-city areas, during the pandemic, councils up and down the country have allowed struggling restaurants to set up impromptu outdoor dining facilities on pavements and high streets. Helping them to navigate coronavirus red tape that stopped many from serving food indoors. Pop-up dining lining many pavements and pedestrian areas.
And in our own gardens, we've preened, pruned, swept, and installed the best outside dining facilities. In came the upgraded BBQs, pizza ovens, firepits, canopies and fairy lights. Out went our dining tables into the great outdoors.
Dining al fresco has proven a huge hit with most diners, in spite of the fact that we were slightly more coerced rather than opted into the concept. I wonder does the UK still have an appetite for dining al fresco now that other choices are on offer? Will this concept be one that we embrace because, actually, we like it?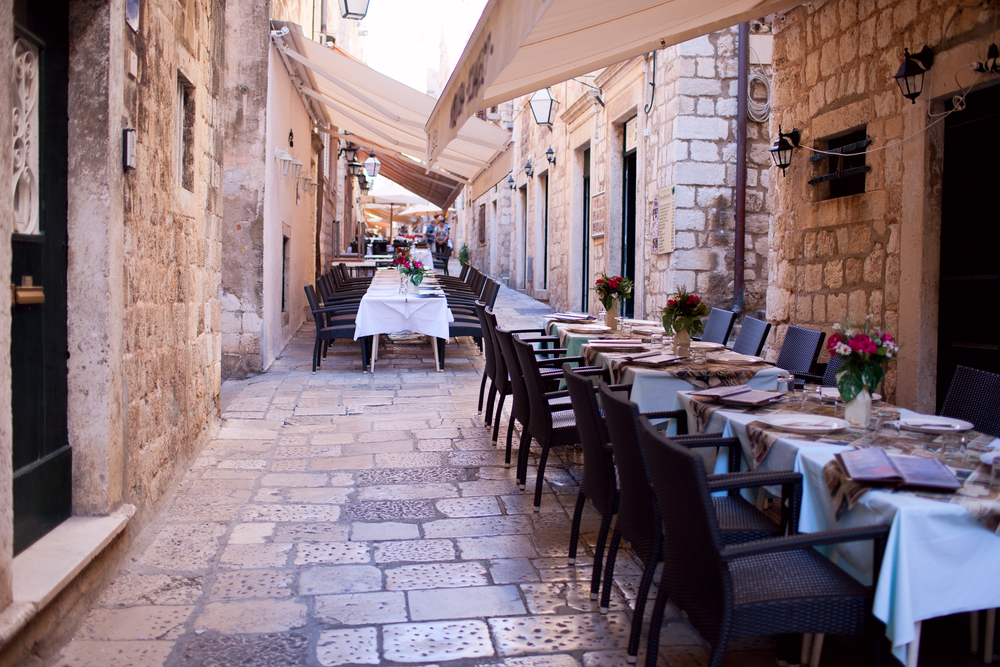 COUNCIL CONSULTATIONS
Up and down the country councils are now confronted with the decision of whether to extend outdoor dining permits.
There's been a mixed bag of results. In Soho council bosses pulled the plug, due to lack of resident support. But according to the City of Westminster council successful public consultations have resulted in the extension of temporary al fresco dining permits including Covent Garden, Pimlico, Eccleston, Elizabeth Street and North Audley Street where residents and businesses have both agreed for the scheme to persist.
Further north, many have decided to continue. Leeds, Newcastle, and Liverpool City Councils have all announced they have no plans to end the temporary measures. Even Manchester has joined the party, although hedged with a warning that the city's reputation for rain could dampen the mood. Clearly the local leaders can see that the additional spaces have added value to the dining atmosphere of a city, and much-needed revenue into the struggling hospitality pockets. But of course, Drink Safe campaigners and Police officials will have a different perspective, as we can 'drink pints on the pavement' (as one newspaper put it).  Public order is a concern, but one I feel we can deal with.
So, with some local authorities on board, and spaces available to transform or repurpose as a dining area – can we say the outdoor dining concept has worked?
NEW YORK, NEW YORK
Perhaps to see the answer we need to look stateside. The big apple is set to continue with outdoor dining as a permanent fixture post-coronavirus. The mayor of the city is quoted as telling the New York Times:
"It was a big, bold experiment in supporting a vital industry and reimagining our public space – and it worked. As we begin a long-term recovery, we're proud to extend and expand this effort to keep New York City the most vibrant city in the world. It's time for a new tradition."
Cities, like the restaurants in them are reinventing themselves. Becoming cosmopolitan, café culture spilling out onto the pavements and even the roads in some cases. And it's big business. Customers are lapping it up.
Yet at the time of writing this no UK council had committed to a permanent change, so with uncertainty hanging in the air – just where should hotels and venues be investing in their dining facilities? Indoors or outdoors?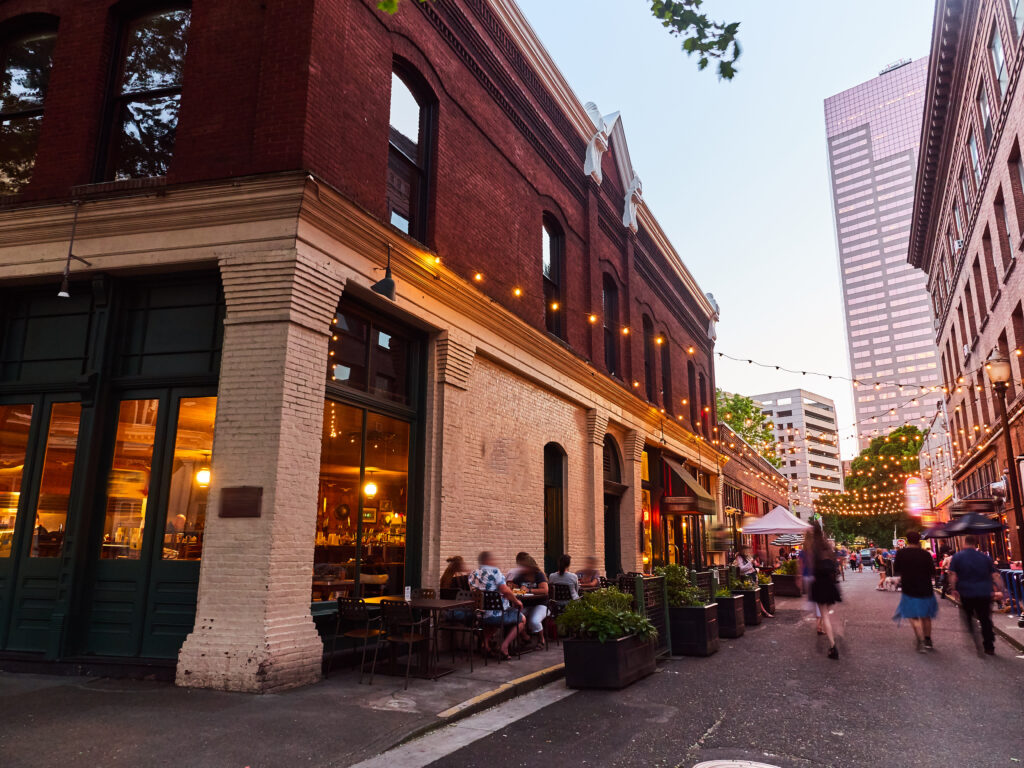 THE BEST OF BOTH WORLDS
It's not like me to sit on the fence, even though that would firmly put me in the outdoor camp. But for me, the answer must be a firm, BOTH!
Those venues that have successfully juggled their space to fuse the indoor/outdoor dining experience will certainly come out on top.
Manchester's Escape to Freight Island is a brilliant success story. A vast aircraft hangar of a venue, the indoor section in the converted Mayfield Depot, is coupled with a huge outdoor space, with cover provided in the form of tarpaulins and canopies. Patio heaters keep things comfortable and add atmosphere while a separate DJ entertains the outside crowd.
It's a huge venue of course. And the whole concept of outdoor dining is much easier for those with an abundance of space, even more so for those outside of the cities. But time and again during the pandemic we've seen that venue owners must be inventive and creative in order to succeed.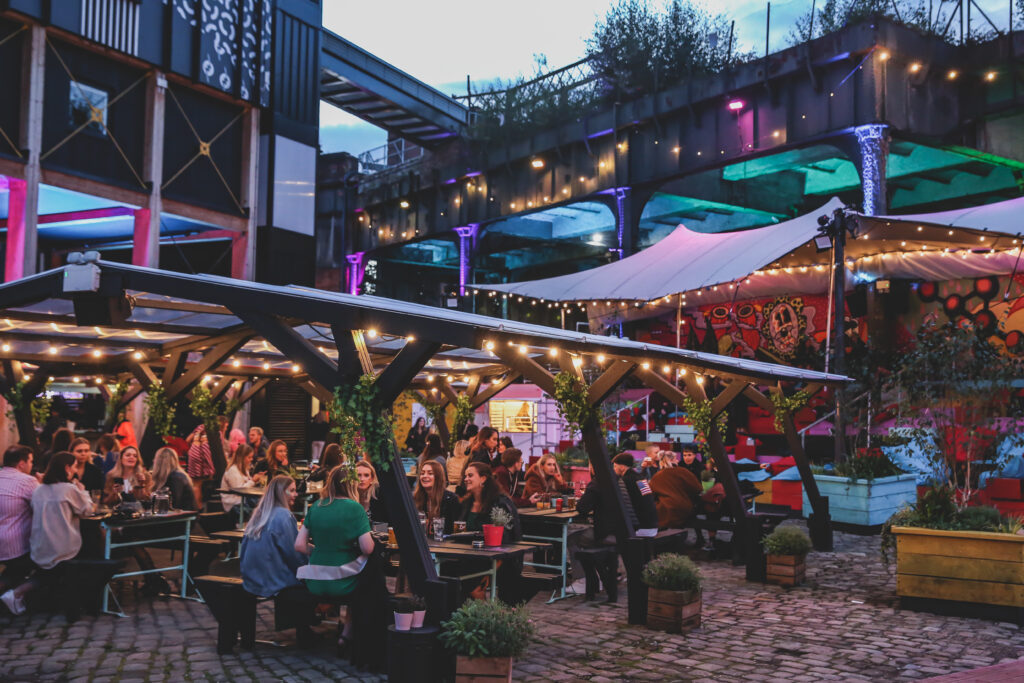 Think outside the box, think outside the restaurant. Bifold doors to throw open the room to the outdoors. A retracting roof to add versatility and create a spectacle. A separate temporary structure in the car park. All creating shelter with style, and additional opportunity.
The smallest of spaces can be transformed into a gorgeous dining experience. A yard used for bins and storage can become a characterful dining nook with some thoughtful reinvention. A private balcony can become a romantic setting for two. Personally, I would even forgo a parking space or two if it gave a versatile extension to indoor dining.
Short on pavement or ground floor space? Look up! Cocktails on the roof garden anyone?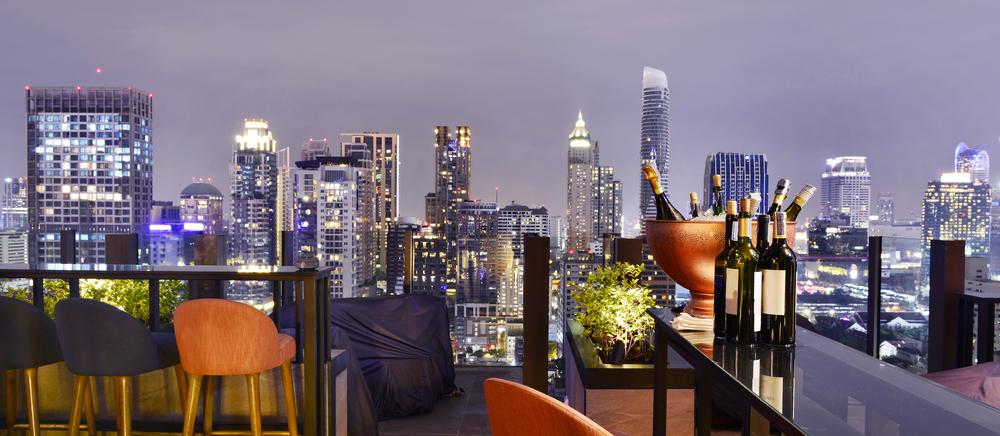 MAKE IT AMAZING
Whatever venues decide and where to place their investment my advice is always that you need to stand out from the crowd. I was proud to be part of reimagining the outdoor space at San Carlo, Fiorentina in Hale, where the restaurant invested significantly into an outdoor dining experience. An Italian Garden took shape, complete with magnificent magnolia tree in full bloom. Themed on the Amalfi coast tables, and décor were designed for comfort and luxury (not just wooden benches) and the entire space covered to protect it from the weather but with open sides to conform to regulation. It's truly spectacular and has contributed significantly to the restaurant's economic recovery.
There is an opportunity here to develop an entirely separate revenue stream with a brand-new concept, or simply create an extension of what you offer now. This is what I mean.
A fine dining restaurant can create a less elaborate patio menu, as you see frequently Stateside. Something reflective of the same food quality, yet less formal and a nod to the more 'street' food culture that's popular. Or they go the other way. Bring the design and concept of fine dining to the pavement or roof terrace…. I am looking at places such as The Ivy Spinningfields and its fabulous roof garden as an example. Exquisite food and high-end service in a discerning outdoor setting.
And not just restaurants …. I walk past Altrincham Food Market and see the pavement lined with tables. Local people enjoying food and wine in the most informal setting. Yet, the quality and provenance of the food remains high. Here, simplicity and a killer atmosphere are the key.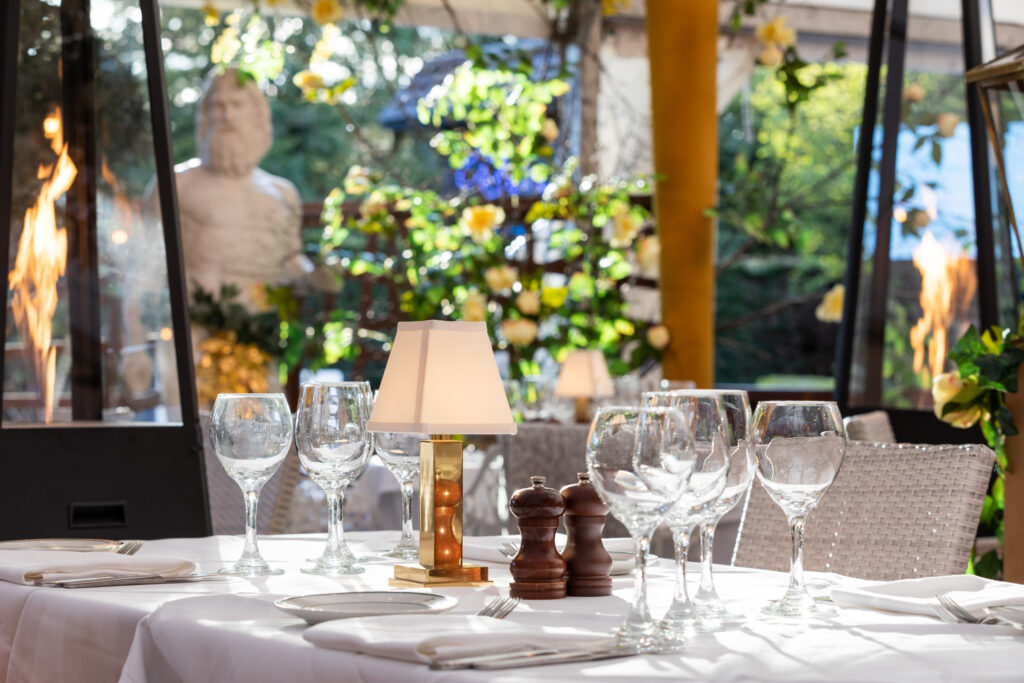 CREATIVE ACCOUNTING
Much of the decisions for hospitality owners lie in cost, logistics and creativity. Look carefully at a concept that is all year to maximise potential and ROI.  Stylish heating and shelter will be important through the winter period, but keep investment in line with what your customer will respond to and the potential revenue. Create a concept you can deliver consistently with staffing, kitchen space and other limiting factors. Using your resources thoughtfully will save money and deliver the best return. But importantly, sprinkle your idea with a little magic – be innovative and different with the concept. This is vital to success.
Gastropubs, pizza bars, sushi, Champagne – you name it – it can all be enjoyed outdoors and right across the UK.  There's been a transformation of spaces up and down the country.  Revealing a wide variety of choice for diners.  This is a selection that includes bespoke dining pods, patios, terraces, gazebos, wooden shelters, gardens, beaches and so much more. 35 Gorgeous Outdoor Restaurants In The UK | DesignMyNight 
So finally, back to the question: does the UK still have an appetite for dining al fresco – I think so. But as hospitality providers, and as always, we need to offer something unique and enticing to get ahead. And yes …. weatherproofing your ideas …. it is essential.
[NOTE: At the time of writing this, the UK Government has ruled out a return to a pandemic lockdown this Winter 2021, although they are indicating the possibility of additional measures being re-introduced.  These include encouraging outdoor meeting and socialising.  So, it would appear the move to al fresco dining is certainly going to be a factor for this winter at least.]
READ
UK Government launches a public consultation into whether the temporary measures to support outdoor dining should be made permanent : https://www.gov.uk/government/news/government-launches-public-consultation-to-make-outdoor-measures-for-high-streets-permanent
BE INSPIRED
I am slowly working my way through this list when I visit my daughter in New York. Some quirky restaurants, cafes and kitchen-bars who embrace everything amazing about outdoor dining: https://www.timeout.com/newyork/restaurants/best-restaurants-for-outdoor-dining-in-nyc
And when in London, these are a selection of the best winter terraces to sample – each embracing the idea of offering something unique to set their experience apart: https://www.countryandtownhouse.co.uk/food-and-drink/best-winter-terraces-london/ 
Share the question – does the UK still have an appetite for dining al fresco? – with your social community and see how they feel?