This is an area I know a thing or two about. So, I'll cut to the chase. Why use events to promote your venue? Because arranging and delivering events to promote your venue can be the most powerful action you can take. But it can also be completely counterproductive if it isn't done well.
That said, the concept of experiential venue marketing is a no-brainer for venues. It's a different kettle of fish than having to hire a venue to host your event. You already have the venue, because you are the venue. That's one gigantic thing less to worry about. So, you can concentrate solely on enticing and delighting your target audiences, and hopefully convert them into regular clients. Even raving fans.
The event possibilities are endless. As leading UK hospitality consultants, my team and I can talk to you about throwing a party or launching a series of networking events. But, before we get to that stage, I want to take a step back. And I want to talk about why there's a lot more to event marketing than a few trays of canapés!
COMPELLING EVENT MARKETING IS MOST EFFECTIVE WHEN IT'S GROUNDED IN INTENTION
Here's why…
INCREASING AWARENESS
When you're using an event to promote your venue, the promotion around the event – both before and after – is crucial. That means interweaving who you want to promote to, with how you intend to promote.  So, think about traditional and digital PR.  In addition, can you harness social media to engage with on a more interactive level? Gamification is taking things up a notch from just posting pretty pictures. It can produce astonishing results. But only if it's right for your brand and your audiences.
FINDING YOUR TRIBE
Here's the thing. It's not hard to fill a venue in Manchester with a rent-a-crowds that will go to the opening of an envelope for a free glass of Prosecco. But truthfully, it's a completely wasted opportunity if that's not what you're after.
For example, most of the hospitality businesses I work with come to me to tap in to the discerning and luxury market. It's what my event management company TLC is known for and a sector I understand entirely. But often, it's a part of the client base that's hardest to work with, impress or even engage with. Years of event management for demanding, high-net worth clients have driven my understanding of how to entice the luxury client and curated my little black book that's a who's who in the market.
They know I can pick up the phone and get straight through to a business leader who wouldn't take their call in a month of Sundays. Forewarned, is forearmed. So, formulate a clear picture of who you want to attract. It will help determine how you get in front of them.
CREATING CREDIBILITY
Event marketing brings your venue to life and provides you with a unique networking opportunity. To this end, I often develop a series of events for my clients to showcase their venue or their new service.  The key to success is partially my expertise in designing and delivering the event production. But importantly, it's just as much about the audience. Finding your tribe…
For my clients, their desired tribe is in the little black book of influencers and opinion formers I've built up over 36 years in the luxury event sector. On the other hand, if you're a green juice bar, you might want to get to the teams of local gyms – and then to their memberships. Understanding the audience is your foundation.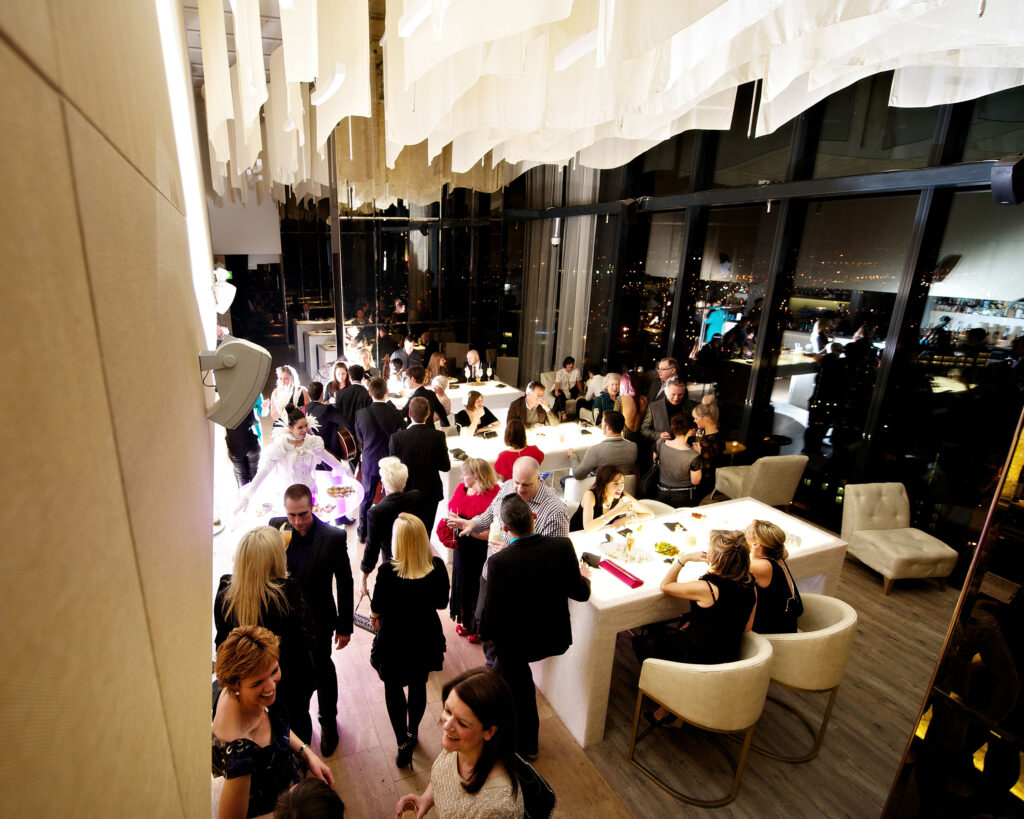 SUPERCHARGING SALES
It's the bottom line. You've grabbed their attention. You've shown them a fabulous time. And you hope you've done enough for them to become a paying client.
Listen, if you've got the above elements right, you should be generating leads and building a pipeline before anybody even sets foot through your doors. In addition, event marketing can increase existing client spend, besides sealing new deals.  It also opens doors to new audiences and cements existing contacts into firm friends.  Sales come short term and long term, so don't lose patience if they don't book instantly.  Work the relationship.
Why use events to promote your venue you may ask – the answer lies in connecting with the right people, showcasing your USPs and then closing in on the sale – but most importantly – the relationship for long term sales.
IN SUMMARY
You've heard of the 4 Ps of marketing?
Product
Price
Promotion
Place
They're also true of event marketing. I've seen hundreds of hospitality businesses getting it so wrong over the years. Unsurprisingly, many of them were here today and gone tomorrow.
You can't just throw a random party and expect it to produce the results you desire, without any rhyme and reason behind it. Event marketing is a much more strategic proposition. And that's the value I bring to venues I work with on event marketing projects.
They're buying in to me and my contacts. But they're also trusting my process. After all, event measurement is becoming more and more important to businesses, rather than just throwing an incredible event. It's something I've advocated for many years.
FURTHER READING
This article Venue Marketing: Tips for Generating More Leads by event tech giant Cvent includes some useful hints and tips about venue marketing.
I'd also recommend having a look at another of my articles Are Luxury Hotels an Accommodation or Lifestyle Choice? Even if you're not a hotel, it you'll get some interesting insights in to identifying and leveraging your unique value propositions.
Thanks for sharing my advice on the issue of why use events to promote your venue.